This is Bob.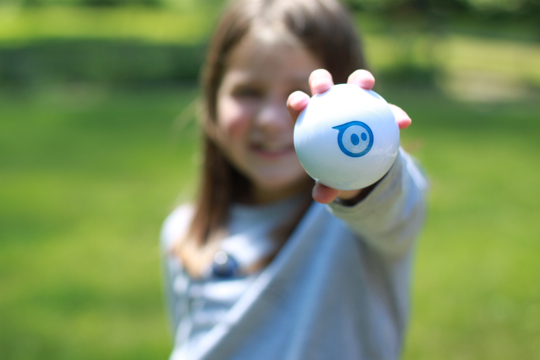 More commonly known as Sphero! But we've named ours Bob.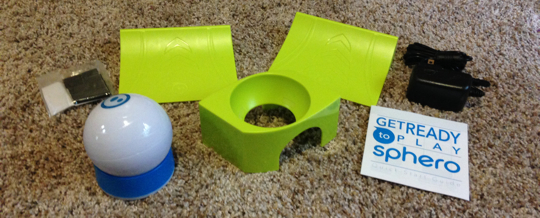 Sphero is quite possibly the smartest little robot ball you'll ever meet! And cutest! With the help of your smartphone or tablet (iOS or Android), you can bring this interactive ball to life. Here's the basic gist of Sphero: simply pair the bluetooth in the Sphero to the bluetooth on your smartphone or tablet. Once paired, your smartphone or tablet becomes the control panel for Sphero.
Race him. Play games. Set up obstacle courses and test your ability to maneuver him through. The possibilities are endless!
And I really do mean endless! Currently there are more than a dozen free apps that use and control your Sphero 2.0! From simple apps that drive your Sphero to golf games to apps that turn your Sphero into your favorite (non-shedding, non-barking, non-mess making) pet!! Abbi loves Sphero Pet app and Zoe loves the Sphero Draw N' Drive app, which lets you draw a path for Sphero to recreate. I can't even tell you how many times Bob has had to recreate hearts and stars (Sorry, Bob!).
And Bob has quickly become one of our favorite new Family Game Night go-to's! As I said, there a bunch of different apps that use Sphero as part of a game, but lately our family enjoys creating our own obstacle courses, challenging each other to navigate Bob through them. Not only do we all have fun with this, but it's great to watch the kids work together and brainstorm ways to use household items to create the ultimate obstacle course to stump dad, who is still undefeated. Each time they get more and more creative. One day they'll stump him!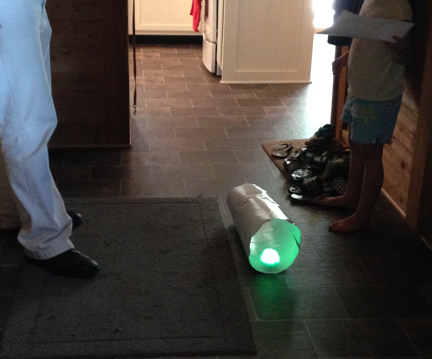 Of course they each have to change his color when it's their turn, which is super fun because Sphero lights up to be the color of your choice. And the puppy thinks Sphero is pretty fun, too! (He's pet proof & water proof!)
That video above was created using the SpheroCam app, which allows you to access your phone/tablet's camera to create photos & videos while driving your Sphero. Super cool!
Able to reach speeds up to 7 feet per second, Sphero is a ton of fun! Add the Nubby Cover and Sphero is ready to go off-road!! Which is pretty awesome when you have 10 acres to let him loose on!!
My favorite part about Sphero is that it really is something our whole family is enjoying! Easy and durable enough for even our 3 year old to navigate and use yet cool enough for the husband. And, because Sphero comes with its own recharging station, the fun only stops when Sphero needs a quick recharge.
I can see Sphero 2.0 being a huge hit this Christmas!
sphero 2.0 :: $129.99 (comes with Sphero 2.0, 2 ramps, charging base & power adapter)
nubby cover :: $14.99 (available in sphere blue, cyber yellow and adventure orange)
connect with sphero ::
Tweet with @GoSphero
Like GoSphero on Facebook
Follow Sphero on Google+
Follow GoSphero on Instagram
Follow Sphero on Pinterest
A SIMPLE GIVEAWAY ::
Because we know it will be crazy tough to wait until Christmas to get your hands on your very own Sphero…we're giving one away to one lucky SIMPLE reader! Simply use the Rafflecopter form below to enter!