#spon: I'm required to disclose a relationship between our site and Sprout Foods. This could include the Sprout Foods providing us w/content, product, access or other forms of payment.
These day it is really difficult to get my toddler to eat anything. I mean honestly, sometimes I have to force her to eat.  Yes my friends we use bribery to get her to eat the good foods.
This is where Sprout Foods comes in…I do NOT bribe her with
candy, cakes or cookies because honestly I don't have that stuff in the house.  I was so glad that Sprout Foods sent me several boxes of Fruity Yogurt Bites and Crispy Chews. This is what I bribe her with.  It works every time. You can read all about these snacks here in my previous feature.

I, of course, had to try these little snack myself and they are really great.  These are definitely a toddler snack. Instead of fruit snacks grab some of these Crispy Chews. They are organic and healthier.  They are like little bites of fruit leather with a crispy crunch to them.  I have been known to take a pack for a snack at work. Shhhh….don't tell the kids. 
The Fruity Yogurt Bites are just right for toddlers. For perfect for little fingers learning to
pick up and self feed. The soft quick-dissolve texture is enjoyable to eat. And five single packet portions make on-the-go snacking easy.  They have 4 different flavors of these Yogurt Bites.
My kids favorite is the Raspberry yogurt with Mango pieces.  They love them and always ask for more.
A natural source of Vitamin C
No added sugar
BPA-free packaging
Never any additives or preservatives
Never any artificial colors or flavors
I know they have some in out local grocery stores, but check this Where to Find it in your area.
Crispy Chews :: $4.92 on amazon.com
Fruity Yogurt Bites :: $5.15 on amazon.com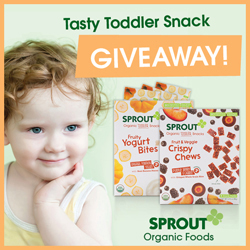 connect with Sprout Baby Food ::
Like them on Facebook
Follow Sprout on Pinterest
Follow @SproutFoods on Twitter
Follow Sprout on Instagram
Enter the Sprout Sweetie Monthly Photo Contest
A SIMPLE GIVEAWAY!
One SIMPLE reader will win a sample pack with 4 flavors each of the Fruit & Veggie Crispy Chews and Fruity Yogurt Bites (8 samples total).
a Rafflecopter giveaway
Giveaway ends July 15, 2013 at 12:00 am EST. Winner will be chosen randomly via Rafflecopter. Please reference Giveaway Rules on our About page before entering. Open to US residents aged 18 and over.